"Adam, you are an instructor who takes it slow and who is careful to offer alternate poses for attendees who have mobility/flexibility constraints (like me). I find your poses are simple but allow for thorough stretching and strengthening. At the end of the class, you lead a guided breathing and relaxation component which I thoroughly enjoy and which I think is missing from other Y classes I have taken. I feel alert, centred and resilient after your classes, and look forward to attending as regularly as I can." Rebecca

"my mother, she used to suffer from arthritis and was doing Aqua Fitness classes five days a week to no avail. Once she began taking  your class on a regular basis she was able to lose weight and no longer suffers from arthritis" Maritza S. 07-07_2010
Side benefits include:
– stronger core muscles
– stronger back
-improve flexibility
– happier mood
–energized & relaxed.
-lose weight
Based on the philosophies of both Yoga and Pilates, Yogalate focuses on core muscles, back and abdominals with poses and movements.
The original purpose of Pilates was to rehabilitate people; including soldiers who were bed-ridden during the world war. Using yoga poses and dance movements with props (strap, pillow, bar…) helped strengthen the muscles and gave the patients their mobility back.
But in Yogalate, we avoid using props (because we are able bodied) so as to avoid the muscles relying on the props to build our strength. Incorporating Pilates' philosophy, we build core muscles: front, back and side. Like a bustier or weight lifter's belt, it helps support the spine. It relieves internal tension and improves breathing by using the yoga posture, breaking it down to baby steps and adding movement to it.
Each movement/series focuses on a specific muscle and uses body movements to build up its strength. The movement can be upper, lower or side of the body (love handle area.) But all of this has one common goal – to make the core muscles stronger.
Adam Quang has been teaching Yogalate since 2005 at the YMCA Toronto as well as his yoga therapy practice.
This video was tape at Halong Bay, a 7 Wonder of Nature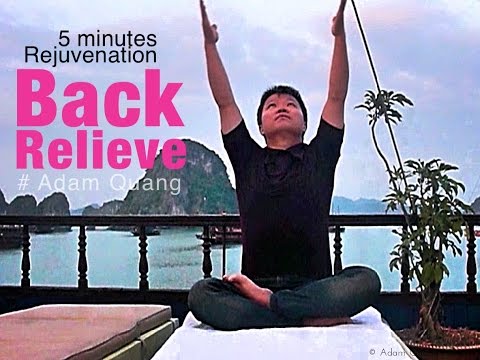 Click here=>Comments from students / Yogalate Feedback 
"Leaving the class feeling excellent. One of the best teachers i've come across in a long time.Thanks, great work!"

"Leaving the class feeling refreshed calm centred happy / I like Adam Presence-centredness-care for his students, ensuring they do the movements at their level of ability etc…"
July 7, 2010
Dear Adam,
I just wanted to thank you for your very enjoyable and beneficial classes. Your positive energy, warmth and expertise makes each Yogalates class you teach a wonderful experience.   I always feel very comfortable in your classes because I know that you put your students' well-being first and make sure that we each work at our own level.
One of the main reasons as to why I'm so happy with your classes Adam, is because of the noticeable results I have experienced. I have struggled with my weight for pretty much my entire life and used to resort to intense cardio and weight training in order to keep my weight down.  Last year I decided to give your classes a try and
I am now very happy to say that I look and feel better about my body than I have ever before.
I have stopped with my previous grueling workouts and instead only do your Yoga and Yogalates classes.  I have slimmed down and toned my body and I always look forward to your classes because I leave feeling energized and relaxed.
Because of the excellent results I have achieved, I was able to convince my mother to begin with these classes as well.  She used to suffer from arthritisand was doing Aqua Fitness classes five days a week to no avail. Once she began taking Yogalates on a regular basis she was able to lose weight and no longer suffers from arthritis.  It is incredible how she has achieved better results with three days of  Yogalates classes a week as opposed to her strict five days a week of Aqua Fitness!
Thank you so much Adam for your continuous dedication and wonderful classes.  You truly make every session a worthwhile experience!
Sincerely,
Maritza S.
Thank you so much for your encouraging words Maritza and I m humbled, its confirm one of the reason I started teaching.
You make my day!  Adam Q.

Comments
comments
Powered by Facebook Comments