This video will inspire and show what yoga can do.

"Detailed instructions, just the right amount of poses"
"Adam has the ability to create and maintain physical, emotional and psychological safety for his students. I feel relaxed, energized and toned." more comment here…
Your Therapy Session:
Average yoga therapy session ranges from 60min to 90min (or even up to 3 hours in duration.) Depending on your requirements, each yoga therapy session will be customized and adjusted to your specific needs.
The class will be held in YOGA BOUTIQUE, a casual environment. Yogis of all levels and skill are welcome, including beginners.
Yoga studies: How Yoga Changes Your Body
Common areas of focus include:
Lifestyle changes
Finding balance
Increased vitality and energy
Relaxation / meditation
Mental focus and alertness
Assistance in starting a regular yoga practice
Learn to move your body in a non-invasive way
Support and teaching postures
Improvement in strength and flexibility
Core muscle building
Releasing neck and back pain/stiffness (from: office work; scoliosis)
Practice advance yoga pose
Body strength
Improves sleep / help with insomnia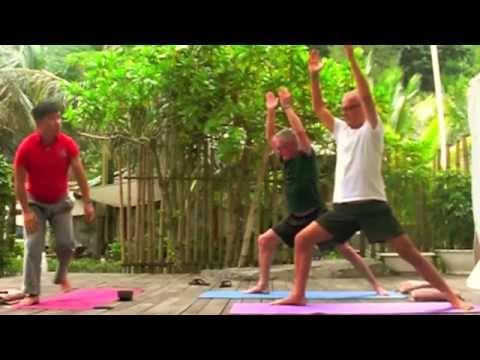 "Don't know what you did to my back during relaxation,
It feel fantastic! Thanks"

 

more comment here…
What to expect:
Adam combines everyday common sense and uses ashanga flow as a base, with Thai yoga massage in his therapy work.
After analyzing your body's physical and mental needs (regarding factors such as: stress, opening up your breathing, back stiffness and pain, neck and shoulder care, strengthening the body core, preparation for advanced yoga poses…. see below), along with your input we will customize the yoga session to your needs.
1st we warm up the body with a series of yoga poses.
Depending on time, we will focus the session on one or all of your needs, working on counter muscles to ease the tension on the focus area. This could be active (making the body warm enough to sweat) or passive and restorative (lying still and letting the body relax and open up) or the combination of both.
We'll end the session with a relaxation / meditation to let the body adjust to the adjustment and relaxation of the muscles.
"Best yoga class I've been to in a long time. Thank you!
See you next week."

 

more comment here…
What to wear:
Comfortable gym clothes, clothes you can move in with enough ease for you to do a lunge or a split with ease and not have your circulation cut off.
I'm ready – what do I do next?
Does this all sound interesting? send an email with your questions, required times and dates to
[ yoga (at ) aqubalacance3 (dot) com ]
For price list click here.
Click here for Reference letters / comments from students
"Adam, one of the things that you do very well is helping people – including me- to clear out all of the noise and simply be in the present."

 

more comment here…
Teaching Technique:
Adam been teaching yoga since 1994. In 2010 Adam went to Thailand to research Thai yoga massage to further his understanding of yoga and its evolution. Traditional thai yoga massage is based on yoga and taichi principles (which Adam teaches), stillness, pressure and flow to relieve physical and internal tension which he has adapted into his yoga therapy and yoga pose technique.
Adam's yoga therapy and teaching technique focuses on easing back pain, tension, building flexibility and strength for the back. He has worked with people with severe back injuries and teaches regular private group classes for people who have mobility limitation with arthritis by practicing yoga on a chair since 2009. He has conducted yoga therapy and advance techniques in group classes and teacher training for more than 17 years. (more bio…)
"Even if you don't have a medical condition, working one on one with a teacher can help you create the home practice that suits your particular body, needs, and goals. And if such a tailored approach moves you more efficiently in the direction you'd like to go than an off-the-shelf routine, you'll likely notice the benefits and be more motivated to stick with it. And that, of course, is the key to success in yoga." VIA Wondering What to Practice at Home? Consider a Private Lesson by Timothy
E-RYT 500 accreditations are qualified to conduct Continuing Education training and train teachers at the corresponding level. Yoga Alliance is a govern body for yoga certification in North America / International. (similar to nurse/accounting governs body)
You may be interested in these articles:
How Yoga Heal & What Happens When Our Emotions Stay in Our Bodies
Yoga Injuries
Omm
Yoga Industry and Its Wild Frontier
the four yoga branches
hot yoga / Bikram Yoga Standing Series
Taichi antidote for pains new study
Tai Chi Reported to Ease Fibromyalgia
Searching for Zen in yoga: How to find a yoga teacher / studio
The Differences Between Yoga Style?

Comments
comments
Powered by Facebook Comments