"Thank you for such an interesting, amazing trip… and again thank you for the wonderful food…" Mar-2012
Thousand years in 14 days & 13 nights
Yoga, private yacht and personal chef &
adventure at a Seven Wonders of Nature, Vietnam!
Upcoming Retreat: – 14 days: Nov 13 to 26, 2016 – 7 days: Nov 20 to 26, 2016
Pictures: Food, Halong bay, cave, Sapa, Hanoi, Temple
A portion of our retreat profits will go towards supporting a Karma Mission in Vietnam.
Do I have to know yoga / taichi to come?
No, yoga /Taichi classes are optional. Also, there are different levels of classes. Even if you have never done yoga before or are new to yoga, you can sit in on any class and do what you can, or just hang out.
[There are different levels of classes for everyone – from beginner to advanced.]
For more Q & A click here…
Immerse yourself in one of a 7 Wonders of Nature – Ha Long Bay, renowned for its thousands of rocky mountains and freshwater swamp forests.
Travel through this UNESCO World Heritage site on a dragon boat (5-7 days). Practice your daily yoga / Taichi on calm waters, while the lush green surroundings permeate your senses.
Marvel in the simplicity of life as you enjoy eating fresh fruit, vegetarian meals and the local catch of the day – truly authentic Vietnamese food!
Experience experience a Vietnamese culinary journey and adventure – a unique opportunity to rejuvenate the physical, mental and spiritual aspects of yourself.
 Click to pay and RSVP your spot here.
Imagine yourself here…
JUST BE
Thousand years in 14 days & 13 nights
Itinerary over view,
Upcoming Retreat: – 14 days: Nov 13 to 26, 2016 – 7 days: Nov 20 to 26, 2016
Week 1: Yoga & Rejuvenation
Ha Long Bay (Dragon Boat / 1 week)
On the first day, you'll experience a silent retreat: Rejuvenate the physical, mental and spiritual aspects of your soul. Be with one thought. Contemplate the bigger picture of life in a quiet, remote setting.
Activities:
Yoga, Taichi, Kayaking, Hiking, Fishing, Cave exploring: Hang Sung Sot, Visiting fishing village, Vietnam culinary adventure onboard, Swimming if the whether permitted
click here for more pictures of: Food, Halong bay, cave, Sapa, Hanoi, Temple
📷Click on picture below ⬇️ to play video 
Boat will pass by (depending on traffic and weather): Bai Tu Long Bay / Hon Gai and Cam Pha, Oan Lagoon, Mat Quy (Monster Head) and Am Tich (Teapot) Islets, and more…
Will I get bored, if I don't do yoga / Taichi?
This is an adventure tour with yoga / Taichi added as the cherry on top of a sundae! There are many adventures to experience. You will find yourself in an ancient world with thousands of years of complex history, influenced by French, American and all Asian cultures combined.

Imagine the mix of foods and the multitude of things that you can learn about and explore!

📷Click on picture below ⬇️ to play video 

On the boat, does it ever get rough? Have people ever got seasick?
We are surrounded by thousands of mountains that block all of the waves and wind. The water in Halong Bay is very calm, so much so that you can see your own refection in the water. The boat is a good size so the water doesn't get "rough" even when another boat passes by. At night, there are no boats passing, I believe this is the rule due to the rocks, under current and mountains. (also see answer in 1st video "Halong bay Travel review")

📷Click on picture below ⬇️ to play video 
Week 2: Culture & Adventure
Hanoi, Bai Dinh Temple, Sapa & Food

Sit back and relax as you witness the hustle and bustle of Vietnamese life from the comfort of your armchair! The Old Quarter, also known as the 36 streets, is a bustling area of narrow streets home to literally thousands of small businesses, shopkeepers and street vendors, selling everything from bananas to books. Originally each of the 36 streets names' were related to the products being sold there. Hence you can walk from Fish Street to Tin Street to Bamboo Street. It's a great place to explore and the slow pace of a cyclo will enable numerous photo opportunities.
📷Click on picture below ⬇️ to play video 

Experience the master craftsmanship of "Water Puppetry" – unique to Vietnam and dating back to the 11th century when performances were exclusively reserved to the King and Queen…
📷Click on picture below ⬇️ to play video 
Take a day trip to one of the biggest temples in South East Asia – a popular site for Buddhist pilgrims across Vietnam. This is considered the largest and most beautiful pagoda in Vietnam, with the biggest copper Buddha Sakyamuni statue (16m high, weighs 100 tons, cast in pure bronze) that was bought from Russian.
3 Days trips to Sapa
(Ham Rong mountain and Lao Cai)
Get to know how the Vietnamese indigenous people live. Join in Sapa folk dancing or just enjoy watching. Hike up to the Gate of Heaven on Mount Hàm Rồng in Sapa and experience the heavenly scenery, with the lush green mountains of the rainforest.
-14 days detail itinerary – click here
click here for more pictures of: Food, Halong bay, cave, Sapa, Hanoi, Temple
Video: Red Dao people in Sapa show us how to eat sugar cane. on our adventure yoga retreat in Vietnam.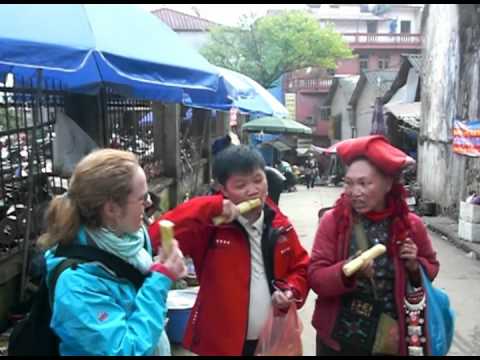 On the boat, are the bathrooms shared or does each room have its own? 

The rooms on the boat are like a 4*-5*hotel rooms. You have your own shower with hot water and washroom – no sharing. Think of a Hilton on the water – it's quite luxurious. We also have our own chef on the boat and he will be make home-cooked meals and Vietnamese specialty dishes.
*Accommodation is based on double occupancy.
*Single Supplement: $985 (If you would like to share a room with another single traveler, please inform us of this preference when you make your booking. We will try to pair you up in order to accommodate your request. Your prepaid single supplement will be refunded to you once we pair you with another single traveler.)
Click to pay and RSVP your spot here.
Ask us about our custom corporate package EMAIL: info @ aqubalance3.com
Click here for Q&A Retreat: Studio/ Teacher
Click here for Q&A Retreat: Individual.
I am not ready to make a full payment now, can I reserve a space and pay later?
Yes, to reserve your place on the Retreat, the Operator requires a non-refundable deposit of five hundred Canadian dollars (CDN$500 + HST) on the day that you return your signed Acceptance of Terms & Conditions and Release and Waiver Agreement.
Final payment of the balance owing is due sixty (60) days before the Retreat is scheduled to begin (if the tour is fully booked, and there is someone ready make a full payment. We will contact you and give you priority to make full payment within 48 hours or refund your deposit)
What is the maximum/minimum number of people you would have on the tour?
The max is 20 people and minimum is 5 people.
#1000ActsofKindness #7. Give the gift of education
By empowering women and children to gain an education, we are helping them to become independent and financially secure.

When there are 10 retreat clients or more, a portion of our retreat profits will go towards supporting a child's education in Vietnam.
Tour cost: 4999 / person. Tax incl
(double occupancy)
All expenses included EXCEPT airfare
Tour includes:
• Chartered private boat with personal chef
• Exclusive cruise through Halong Bay
• 13 nights at 4 – 5 stars Luxury accommodation
• Yoga & Taichi classes in Halong bay
• Cave exploration
• Kayaking
• All transfers and transportation in PRIVATE  A/C vehicle with driver as program
• Train tickets to / from Sapa
• Entrance sightseeing fees, taxes and service charge
• All meals as itinerary (3 meals / day)
• City tour by Cyclo or tram
• Water Puppet theater tickets.
• English + Vietnamese speaking guide throughout tour program
Tour excludes:
• Insurance of all kinds (compulsory)
• Passport and visa fees
• Meals, drinks, alcohol and all services not clearly mentioned
• Laundry, telephone calls and expenditure of a personal nature
• All international & domestic flight and airport taxes.
• Airport taxes and fees;; airline fees for checked and/or excess baggage;
• Insurance of all kinds;
• Tips and gratuities: to vehicle drivers, local city guides, and dragon boat and hotel staff;
• Private yoga lessons (75 USA / Hour);
• Optional excursions; and all items of a personal nature.
• Airport transfer 1 way $30.usa
• The retreat price also does not cover costs and expenses, including the return to your home, if you leave the retreat of your own volition or due to illness, or as a consequence of official action by the local government.
Teacher: Adam Quang E-RYT 500
The founder of World Karma Project, an energetic and easy-going fellow, known for his wisdom and compassion. A registered yoga instructor with Yoga Alliance E-RYT 500 master level. Adam combines everyday common sense and uses ashanga flow as a base, with Thai yoga massage for his teaching style.more…
Note: Participants can register with the Yoga Alliance and receive 35 continuing education training hours from the retreat.

Comments
comments
Powered by Facebook Comments